One of the many things I'm so thankful for this year was to have been a part of Bon Jovi's 2020 'tour'. By that I mean a few days of rehearsal, and then shooting/recording live versions of the new album on a soundstage in Nashville. The concert has since been released on YouTube, Facebook, Instagram etc… and songs have been aired on a bunch of network television shows. Check it out on your favorite personal screen! Search 'On A Night Like This - Bon Jovi' and you'll be all set! 
The album is fantastic, and so much fun to play. I got a chance to stretch out on keyboards, guitar, mandolin, and vocals. I just tried to fit in wherever I was needed. Huge thanks to the band and crew for making me feel so welcome, and especially David's tech, Bill, for helping me understand his spaceship of a keyboard rig.
I also had a chance to play on Jon Bon Jovi's Christmas EP - A Jon Bon Jovi Christmas! He got in touch with me and the crew to come over and play live together a handful of Christmas classics. 
After a joyous afternoon of playing through these tunes - he asked me to overdub a couple things at home for the release! 
It's truly and honor and a great pleasure to play with these incredible folks whenever I get to. It's something I do not take for granted. 
So, when you're huddled around the fire (with hopefully VERY FEW family members), throw this record on and enjoy!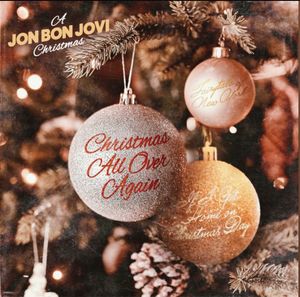 Christmas All Over - 
JBJ - Vox and Guitar 
Lorenza Ponce - Vox and Violin 
Carl Gentry - Vox and Piano 
Everett Bradley - Vox and Percussion 
Me - Vox, 12-string Guitar, Bass, Drums 
If I Get Home On Christmas Day 
JBJ - Vox 
Lorenza - Violin 
Carl - Piano 
Everett - Percussion 
Me - Guitar 
Fairytale Of New York 
JBJ - Vox and Guitar 
Lorenza - Vox and Violin 
Carl - Vox and Guitar 
Everett - Vox and Percussion 
Me - Vox, Piano and Mandolin