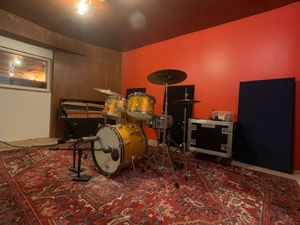 The Studio
I'm very lucky to have inherited a recording studio from my father.  An amazing space where I've been able to write songs, rehearse with bands, and most importantly - Make Records!  It's a fully functional studio located in North White Plains, NY, a 35 minute express train from Grand Central Station in NYC.  A great control room, large live room, iso-room with upright spinet piano, and extra space for isolating recording amps.  It sits on an acre of property with beautiful gardens on a quiet street, only a 5-10 minute drive from downtown White Plains.  Everyone who's recorded here LOVES the vibe and how comfortable it is.  How 'not New York' it is.  If you have any questions, or if you're interested in recording - please get in touch! 

The tracks on the site-wide player and on the Music page are all from records recorded at the studio(check out discography here!).  The space is perfect for any of your recording needs (everyone says that.. but here, it's true!).  If you're working on writing and demoing, I have a ton of sample based instruments and softsynths to create full arrangements for your pre-production needs.  Working on pop / RnB / Hip Hop, I'm well versed in that too - Just ask me for some samples!   And of course, full production is my middle name (it's actually Nicholas, but you know...).  Full bands, horns, strings, vocals - we do it all.

I don't have any 'professional' pictures of the space, but here are some shots from sessions.
I don't like to ballpark rates, each project is unique and deserves to be treated that way.  And I don't like hourly rates, I don't like when an artist is nervously looking at their watch when they'd rather be focused on making good music.  Let me know what you're working on and I will do my very best to work out a number that fits your budget!
Rather than write a long, boring list of gear I have on hand where your eyes are sure to glaze over... Here's the basics -

I run Pro Tools HD and Logic Pro X on a new Mac Pro
I have Fender, Marshall, Vox and Crate guitar amps
Ampeg, Guild, and Fender bass amps
Fender, Gibson, Epiphone, Danelectro, Fano, Rust, Kay, Martin, and MusicMan guitars and basses
Yamaha and Ludwig drum kits with various cymbals by Zildjian, Sabian etc...
Fender Rhodes, Wurlitzer, Hammond B3 Organ, Upright Piano, Hohner Clavinet, Nord Stage Grand keyboards
I have a lot of softsynth stuff (Native Instruments, Arturia etc...)
Lots of great plugins (Waves, Steven Slate, Soundtoys, Izotope, Trillium Lane, Antares etc...)
Great mics by Neumann, Coles, Josephson, Audix, Shure, ElectroVoice, Cathedral Pipes, Fat Head and others...